The idea of undertaking a silent meditation retreat has always been a little daunting.
Yoga retreats I have been on in the past were a mix of movement, socialising, great food and relaxation. Three days contemplation and concentration in silence, with no phones, seems a touch more serious…
Over the past year though, the idea of immersing myself in a few consecutive days of practice has become more and more appealing. I have been craving dedicated time to practice - stepping out of everyday life for a moment to be quiet and still. Late last year I decided to take the plunge and booked into a three night retreat that begins tomorrow, in the Blue Mountains to the West of Sydney.
I am a strange mix of nervous and excited - will I be able to do this? Will it be really hard? Maybe I'll love it and have a great experience! Ah the mind… It loves to fret and dream about the future, often both in one sitting. Primarily, I'm trying to release any expectations I have for the experience, and simply go with it - take it one hour at a time.
What to pack for a silent retreat?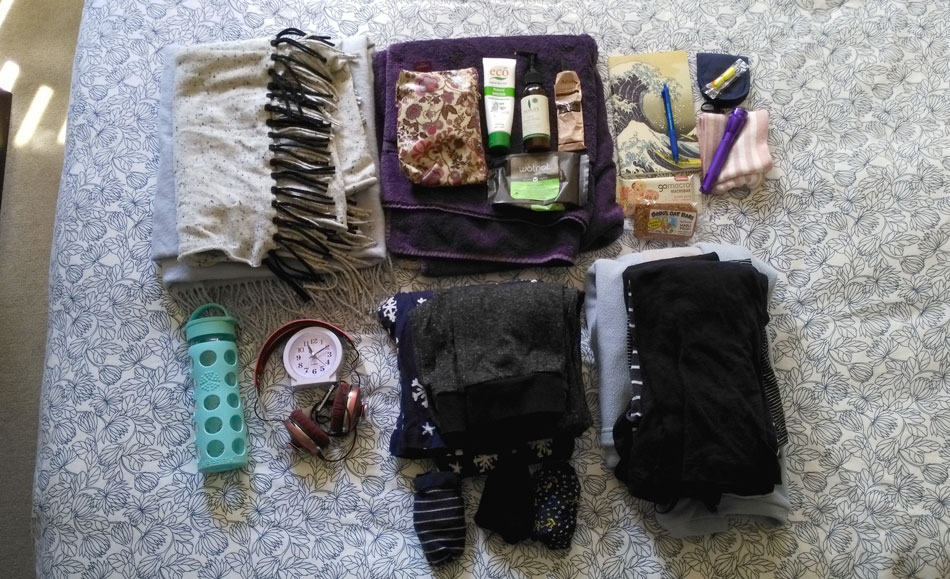 The contents of my travel bag for this weekend
The Insight Centre that I'm heading to suggests warm clothes, as it can be chilly in the mountains, especially at night. They also recommend insect repellant, suncream, sleeping bag, pillowcase, toiletries and an alarm clock as no phones are allowed. You can bring a notebook - only to be used when chatting to the teacher - but no books to read. Along with these bare essentials, my shawl, cosy pyjamas, ear plugs and a few gluten free goodies also made the cut. Headphones also included so I can listen to music and podcasts on the two hour train journey there and back.
Here is the list I settled on:
Clothes
3 x comfortable T-shirts (long sleeved)
2 x warm and loose pants to where when meditating
cosy pyjamas
socks for each day, plus an extra pair
2 warm jumpers
A soft shawl for the meditation room
slip-on shoes for wearing around the centre
jeans and sneakers for the ride there and back
Other Essentials
towel
bedsheet and pillowcase
sleeping bag
toiletries - just the absolute basics
any medications you need (and supplements)
notebook and pen
small analogue alarm clock
gluten free supplies (just in case)
earplugs and eye mask
torch
warm headband
water bottle
This is it. No books, make up, hair products, jewelry or nice clothes. Simple essentials, and a little comfort.
Pre-Retreat Nerves
If you follow me on Instagram you may already know that I have been struggling with anxiety again over the past couple of weeks. This has made morning meditation difficult - racing mind, restless body - and leaves me a little nervous about sitting silently with my thoughts for three days.
A couple of weeks ago a friend suggested that the retreat actually begins the moment you sign up for it. All of the pre-retreat thoughts, planning, packing and anticipation are part of the retreat experience. I have found this to be a comforting way to approach it, allowing me to notice my fears and see how I can sit with them.
I'm trying to consciously let go of any particular desired outcomes for this retreat, but I can't help but hope that the quiet will help me settle, and the longer periods of meditation will refresh my daily practice. Next week you can expect a full report.
If you have been on retreat before and have any advice for me before I head off, or anything you would add to an essential packing list for retreat, please feel free to share over on Facebook.
Edit (31/3/2016) - I just got back, and would add to the above list a sun hat, thermos and tea bags. Otherwise I had more than enough!
Published